---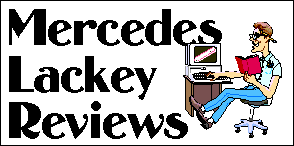 Maintained by Jerry Cullingford (Click here to mail)
---
Last Updated: Sun 4 June, 1995
---
_Sacred Ground_
---
A (so far) standalone book in the same vein as the Di Tregarde books.
---
Comments
If you have this book, why not mail me your comments (see below), and let people know what YOU think about it?
---
Dani Zweig (dani@netcom.com) 1994 (from rec.arts.sf.reviews):
"Sacred Ground" is vintage Lackey -- something which gets boring after a while. The confusion of people who thought it was a Diane Tregarde novel is understandable, as it recycles many of the themes and quirks.
There are differences, of course: Jennifer Talldear is living in Oklahoma, rather than just visiting. She's a licensed investigator, rather than an unlicensed one. Her magic is shamanistic, rather than Wiccan. Her family has a tradition of hiding its origins, rather than (or more precisely, in addition to) its religion.
Despite these differences and others, however, it reads like a standard Lackey novel. When a particularly slimy developer unearths what appears to be a native graveyard, and when what may be acts of sabotage follow, Talldear is hired to investigate the possibility of insurance fraud. It turns out quickly enough that in addition to whatever mundane wrong-doings may be afoot, the developer has opened the door to an Ancient Evil (TM) which it is up to Jennifer, her Old and Wise (TM) grandfather, and her Attractive but Obnoxious (do I have to say it?) quondam love interest to combat.
Wisecracks aside, this *is* vintage Lackey, and I remember how much I enjoyed this books read-alikes when they first appeared. People who still feel that way about them will enjoy this one too.
---
Sean Eric Fagan (sef@kithrup.com) 1994 (from rec.arts.sf.reviews):
In my mind, there are two parts of a review of a Mercedes Lackey (or any other established author, for that matter) book: the story, and the author.
For a while, Lackey's writing was only barely acceptable, at best, and not worth reading, at worst. Fortunately, she seems to have gotten past that, and is now a decent writer again. If I were to ignore everything else Lackey has written, I would say that SG is a perfectly acceptable modern-day fantasy novel, and would recommend it to those who liked that sort of work. I would also recommend getting it in paperback, of course, not hardcover.
However, since I have read almost every book she has written (I have ignored the Piers Anthony coauthored book, and I refuse to read any of the Bardic Tales after the first one, since that one was so bad), it is virtually impossible to ignore her previous writings.
I thought about opening this review with: What would you have if Diana Trelgarde were a Native American Indian shaman, instead of a Guardian, and a private investigator instead of a romance novelist? You would probably get something that read exactly like Ground.
_Sacred Ground_ is the story of a Medicine Woman, Kestrel, who works as a private investigator. In her spare time, she also tracks down and returns sacred Indian artifacts. The plot is very unique to all of this, and Diana Trelgarde would never run into something quite like this.
But the book reads like one of her stories anyway. Mind you, it is much better than _Jinx High_, and possibly better than any of the Trelgarde novels. Although there is not less lecturing and preaching, it is better done, I thought (I only got annoyed at a couple of places, instead of the more usualy half dozen or so in other books).
If you are a Lackey fan, then, as with the past couple of books of hers I've read, I'd have to say it's a definite recommendation. If you're a fan of modern-day-fantasy-with-investigation, then I'd also recommend it -- although I might also recommend that you get it in paperback, or find a used copy of the hardcover.
If you've never read a Lackey before, this might not be a bad place to start. Except, again, for the fact that it's a hardcover book. (Maybe I'm being too cynical, but, while it's a good book, I don't think it's quite *that* good.)
If I were to rate it on a -5 to +5 scale, I'd give it about +2.5.
---
(click here if you want to mail me YOUR comments to add)
(Be sure to indicate which book the comments apply to!)
---
Bibliographic data



%T Sacred Ground
%A Mercedes Lackey
%I Tor Books
%G ISBN 0-312-85281-9
%D March 1994
%P 381 pages


Cover Art ?
---
Associated Artwork
?
---
Associated Filk
None that I'm aware of at present.
---
click here to return to reviews index...
Jerry Cullingford