---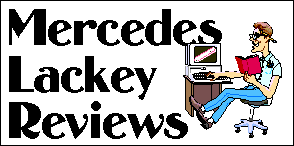 Maintained by Jerry Cullingford (Click here to mail)
---
Last Updated: Wed 19th July, 1995
---
Mercedes Lackey Book/Tape/Story Reviews
---
These pages are available at a both a US and a UK site; you can use whichever is the most convenient. [Mirroring arrangements are in place, but changes may show up on one site (usually the US at the moment) slightly earlier than the other].
Click here if you want to go to the UK site, or
Click here if you want to go to the US site.
---
You can see a summary of recent changes if you've visited here before, or pick a review from the list below.
---
Click here to find out why people like Mercedes Lackey's work.
---
Books
Velgarth/Valdemar/Herald books

Books set in the same world (Velgarth).

The Arrows Trilogy

The Last Herald Mage Trilogy

The Vows and Honour Duology

_By The Sword_

The Mage Winds Trilogy

The Gryphon Trilogy

The Mage Storms Trilogy

Books set in an alternate modern-day world

Others
Short stories
[none yet - these should be even easier to do!]
Filk
_Oathbound_
---
Reviews in Progress
If you're working on a review, then drop me some email and I'll add you to the list below, so that anyone else thinking of doing a review can check and see if lots of of other people are working on the same one...

Or send me some email if there's a review you'd like to see...
Books
_Arrows of the Queen_ - Melissa Gaul (tgaul@halcyon.com)
Short Stories
[none yet]
Filk
I hope to add track lists (at least) for the other tapes I've got - Jerry Cullingford (jc@crosfield.co.uk)
---
Other Mercedes Lackey Resources
Web Sites
Ian's UK Mercedes Lackey Pages
Other Authors you might like, suggested by members of the mercedes-lackey mailing list
The Mercedes Lackey Mailing list
This is a pretty active mailing list, with lots of nice people...

More information is available.
---
Click here for the Who's Who list, with links to other web pages.
---
Coming soon... the Great Barbecue Page and Recipe collection :-) :-)
---
Go to Jerry's Homepage
---
Select [BACK] on your web browser to return to previous page...
Jerry Cullingford