Memories of Live Aid - Bernardo Junco
Bernardo Junco has sent me a terrific write-up of his day at Live Aid -- longer than most, so he even gets his own page! If you'd like to send me yours, feel free to send me mail!). More memories are here and here.
---
Live Aid 1985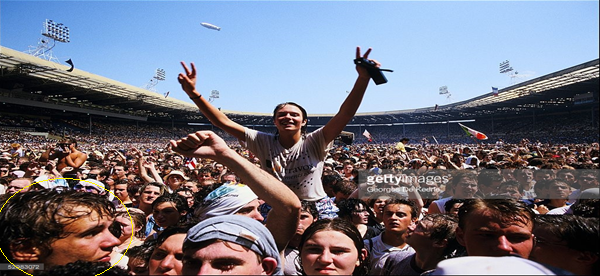 It's June 1985. My dad and I are on our way to drop off my mother and my brother to the Miami International airport. They are on their way to London to visit my sister Mariana who has been studying interior design there. Like every other summer the family is traveling to Europe to spend a month and a half sunbathing and playing paddleball in the beautiful beaches of Santander, Spain. This year it's a bit different for me. I just turned 17 years old in February and I believe I'm ready to get my first summer job and start producing some money. Very excited to get started my cousin Jorge and I head over to our first interview together. Our first stop is Hardees fast food restaurant. After both of us speaking to the manager and showing him the enthusiasm we had to start working and getting the most hours possible we were both offered our first job.
We were so excited we sat down and started calculating how much we would make a week working a full 40 hours. I believe our rate pay was the minimum $4.25 an hour. That would give us a grand total of $170.00 a week and approximately $680.00 a month. Wow we figured all that we could do with that amount of money and what a wonderful summer laid in front of us. So here we were, first day of work and opening up the restaurant at 5am. On the way to work we couldn't help but being tired but with the excitement of our new income and listening to the rock and roll stations on the radio at a high volume we were immediately wide awake and ready to go.
What a wonderful time in our lives that was then. We were young, we dreamed of playing in a rock and roll band and we were finally working on our independence from our parents. On our first day of work we did not have much of an opportunity to really have an opinion. Between the facts that everything was new to us and trying to learn the different duties we would be responsible for in the next couple of months', time flew by and before we knew it was 1pm and we were on our way home. We certainly noticed how we both smelled from head to toes like a greasy roast beef sandwich mixed with a freshly cooked cinnamon bun. That did not matter. We each had earned $34.00 that day and we were now listening to the new Dire Straits album Brothers in Arms single "Money for Nothing" blasting on the radio. Our mood was driven from one rock song to the next being played while during commercial breaks we would recall our experiences of our new found job.
I could not help and notice all the noise and talk on the radio about this super concert that was going to take place in London and in New Jersey simultaneously called Live Aid. They were calling it the biggest Rock show since Woodstock. We both dreamed and imagined what it would be like being able to attend experiencing it all. After all we were certain that that's what we wanted to do with our lives. Being in a Rock and Roll band and touring all over the world in front of millions. The Live Aid concert was scheduled for July 13 and we were eager for the day to come.
As days rolled by and work hours piled up our new schedule of waking up at 4am started to weigh in on us. While our friends were sleeping in and planning their day at the beach we were stuck in a hot greasy kitchen dealing with our boss and the obnoxious early bird customers. The fact that we had to pay for our own food during our 15 minute break did not help much in keeping our spirits high either. Considering we were making roughly $28.00 a day after taxes and our meal ticket was running us approximately $5.00 a day we quickly figured out how to beat the rap. We decided we were going to wait until we got out of work to have our well-earned meal. Everyday day before punching out, as the good employees we were, we would throw out the trash in the back dumpster. We made sure that one of the bags being thrown out had a big variety of delicious freshly made sandwiches, fries, buns of all types and even a few carton containers of milk for our ride home. Day after day we found ourselves driving away listening to our rock n roll tunes blaring out the window of my cousin's red Starsky and Hutch like car, while munching on a not so healthy Hardee's meal. I must say the laughs my cousin and I shared of our adventurous work day while eating away was the highlight of our day.
By the end of the first week the idea of doing this for much longer did not seem appealing anymore. I was tired of barely sleeping, always smelling like a big grease ball, the food I was eating was starting to make me sick and worst of all my constant thoughts of where and what else I could be doing with my precious summer time was really dragging me down. It was just around then I started dreaming. I thought to myself. My dear brother, mother and sister are strolling down the streets of London, England enjoying every bit of their stay. They are sleeping in all they want. They have a different menu to choose from at every sit down meal they were spending together as a nice family. And more importantly they were present in the city where the biggest rock n roll party in history was about to take place in a few days.
LIVE AID, over 100,000 fans expected to cram into Wembley stadium to witness a never seen before carnival of the top bands sharing the same stage. Rock n roll band reunions were scheduled to take place just for that one show with the Who being one of them. Legendary acts like Queen were poised to rock the stadium to the ground. Sting and the Police were going to play and later join in with Dire Straits to perform their new hit single that was taking over the world of MTV "money for nothing and your chicks for free". Phil Collins being scheduled to play at both London and New Jersey shows with the help of the British Airways concord plane also gave this show an extravagant twist. The list of acts just went on and on with one act standing out I really had my heart into at the time. This band which was made up of some young Irish guys from the city of Dublin, was slowly taking on the entire world. The band was U2. They were in the middle of a world tour promoting their recently released master piece "The Unforgettable Fire".
That right about did it for me. I was on a mission and my whole summer plans were drastically changing. I had a few obstacles in front of me, just a few. My first obstacle was how I would present myself to my dad with the idea of going to Europe. I knew the last thing in the world I could mention to him was that of the LIVE AID show. Not a chance. I figured I would approach him with the angle of me learning a good lesson through my experience of getting my first job. I would mention to him how I realized how fortunate I was to have a dad that would put value in giving his children the chance to travel and the whole culture thing. The fact of me wanting to get a job to become a bit independent was a silly idea at my age when I could be spending time together with the rest of my family enjoying and experiencing more of what Europe could teach me. I even think I threw in the fact that I kind of missed them also. I was determined to give it a chance so I first shared my idea with my cousin Jorge. He thought I was crazy and that I would never find a ticket for the show. I think he may have said that more for the fact of losing his partner in crime than really doubting my determination.
I put my idea into action. I first told my dear boss that at the end of the work week I was quitting. I let him know 2 weeks of this torture was more than enough for me to handle and that I was moving on. I had it all worked out. Two weeks' pay would give me after taxes a whopping $270.00 and that would be my budget for my LIVE AID ticket. When I approached my dad and informed him I had quit my job and shared with him my sob story his response was very positive. Till this day I'm not sure if he believed me or he just wanted to get rid of me. I just needed to make sure it was in his plans to ship me to London very quickly. The date was July 6th and the concert was the 13th. If his intentions where to get me a ticket for a later day I would have called it all off. What a scene that would have been. Well here I was. I had my plane ticket in hand for the 10th of July. My next few days was all about getting ready mentally on how I was going to pull off getting my hands on the hottest concert ticket in the world. Not only was I certain I was going to attend the Live Aid show but I took it a step further by guaranteeing all my friends that I would be in the 1st row center wearing a green florescent shirt for the whole world to see me. I think right about that point everyone thought I had lost my mind. I knew I had a huge challenge in front of me but I was in peace eager for the day to come.
July 10th has arrived and my dad takes me to the airport. After the usual checking in and all the walking down the long gateways I finally reached my gate and before I knew it we were loading the plane. Once sitting in my chair towards the back of the plane I took a deep breath of relief and pure excitement was pouring out of me while I shared my plan and adventure with the 2 plane stewardess that where listening to my story. I would be landing in London on the 11th of July with plenty of time to accomplish my quest.
Next thing I know the captain comes on the loud speaker and informs us that the flight is a bit delayed due to some technical difficulties they are in the process of getting squared away. At that point I could care less I was in the seat of a 747 British Airways airplane waiting to hit the runway on my way to London, England. Time passed by and we were still not moving. One hour to be exact and the captain again makes himself present through the loudspeaker. He informs us that our flight to London has been canceled and that we would be flying out the next day. My first thought and action was looking at my calendar and making sure that I would still be making it on time for the show. Of course I would I took a deep breath of relief. I would be flying out tomorrow on the 11th and arriving early on the 12th to London.
The one little detail that I knew was a problem was that I did not have a ticket for the concert as of yet and now I would have 24 hours less to achieve getting one. I did not lose a minute of sleep. I told myself again and again that I would find a ticket and end up in the 1st row like I had always planned. I called my dad and he came and picked me up at the airport. The next 20 hours flew by and before I knew it I was on board the same 747 plane taking off from Miami International Airport on my way to Heathrow Airport London, England. Upon arriving I took a taxi to my sister's apartment and once I got there and greeted everyone and sat down and put my plan into action.
First thing I needed was a London newspaper to look in the classified section for the sale of tickets to the show. There I had it, two different newspapers in front of me to start my search. Immediately upon finding the section for tickets I started seeing everywhere Live Aid ticket being offered. There was just one big problem. My budget for the show was $275.00 dollars and I could not find a single add for anything less than 300 English pounds. Back then it equaled to $414.00 dollars. I did not let that dampen my spirits. I figured I had just crossed the Atlantic Ocean and I was not going to let anything stop me from attending the show. I simply told myself I would show up to the show tomorrow morning super early with cash in hand and look for a ticket there. My poor mother had no idea of my intentions until I arrived in London and now all she could think about was how I was going to pull this off and survive in doing it. I told her not to worry. I had it all planned out.
The TV news and radio did not help in keeping her at ease. All the media was reporting on was this crazy event taking place at Wembley stadium the following day, organized by the lunatic Mr. Bob Geldof, and not knowing what to expect, how many people, and how they were going to pull off this monster concert being watched by millions all over the world. At least it was all for a good cause. Everyone involved had one goal in mind. Putting a dent in the millions that were dying of hunger in Africa.
It was getting close to dinner time and we all decided to go eat at the Hard Rock Cafe. Upon getting there we found ourselves standing outside in a long line to get into the restaurant. No problem, we had nowhere else to go and were enjoying time together as a family. All of a sudden I see a Hard Rock café waiter, standing about 6 people in front of us, waiving something in his hands. Something immediately told me to investigate right away. I ran up to him and as I was approaching him I heard this angelic voice coming out of his mouth "I've got some Live Aid tickets for tomorrow concert available" My heart stopped as I was in disbelief. But sure enough I saw his hands and he was holding on to some tickets. I almost jumped on top of him saying yes me!!! I'll take one. How much do you want for it? He answered me "base ticket price 25 pounds" and then went on to share with me that Hard Rock Cafe were the caterers for the backstage party of the show. At this point I knew right then that this was all meant to happen to me and that all my plans were coming together by the grace of God.
Throughout this ordeal my family members were all wondering what the hell was going on and slowly approached me. Once they learned what had just occurred, my Mom's worst fears became a reality. Her son was going to attend this historic event taking place in but a few hours all by himself. We all proceeded to walk in to the restaurant and had the most amazing dinner. I can assure you the topic of conversation and the mood surrounding everyone in the café was all about the LIVE AID concert taking place the next day.
My alarm goes off at 4:30am. Considering I have a ticket in hand I still want to get to Wembley Stadium very early to try and secure a good spot going in to the concert. The train ride is roughly 45 minutes so I eat a bowl of cereal and some toast and I'm ready to go. My mother accompanies me to the door and gives me her blessings. She's obviously worried watching her son leave in the early hours, while it's still pitch dark, towards this monster event where over 100,000 people are expected to attend. I gave her a hug and a kiss and told her to watch for me on TV.
I got to the train station and boarded my train by 5:20 am. I figured I would be at my destination by 6:15 and that would give me a good head start to accomplishing what I was out to do. As the train made its stops on the way, little by little you could see the number of obviously attendees of the show getting on. Everyone was happy, singing songs and eager to arrive at our destination. Upon arrival I headed directly to the stadium and walked around a bit to see which gate I was going to spend sitting in front of ,waiting for the grand entrance, for the next 3 ½ hours. I picked the one with the least people around it and sat myself down. By this time it was around 6:30 and the sun was slowly but surely making itself present. Daylight was here and the surroundings started to look like we were on for a hell of a party. Between watching people of all sorts singing songs and hearing the stories of the people around me of how they got there and where they came from, time flew by and before I knew it the hour was 9:45.
Supposedly the gates were going to open at 10:00 am so I was standing ready to make my move. Indeed you could see the security personnel getting ready to open the gates and as they did everyone just rushed them. I must have been like the 50th person to go through my gate but upon entering the race was on to see who could run the fastest to get that spot close to the front of the stage. Me being 17 and fit, I sprinted faster than ever through the stadium looking for the first entrance I could see that would lead me to the field. Not having to ask anyone for directions just following the crowds rushing in.
Well there I was. I ended up dead center but maybe 20 rows back. I was not concerned at all because I knew the show was not going to start for another 2 more hours and knowing me I knew it was plenty of time to slowly but surely make my way closer and closer to the very front. The heat was coming down. There was talk all around me of how hot it was and what a beautiful day was starting to shape up. Just looking around my surroundings and seeing the stadium slowly filling up with what seemed like thousands of small ants pilling in everywhere made me forget about being hungry, tired, thirsty or anything else my body could have yearned. I was exactly where I wanted to be all along. I had made it to what was planned to be the greatest musical festival in history.
As special guest in the stands would make their entrance the announcement over the PA would cause the crowds to roar. The future king of England, Prince Charles, and his lovely wife Diana got a huge welcome by the thousands of attendees. Just around 11:30am the announcement came in over the loud speaker to please all rises and join in with the Goldstream British Guards band and sing the "Royal Salute" GOD SAVE THE QUEEN. That was a magical moment of energy being felt as fighter jets flew above us and huge explosions soon followed to start the beginning of a long day of Rock n Roll. By this moment I was standing roughly 5 feet away from the very first row of this historical venue. The date was July 13, 1985 and the time was 12:00 noon.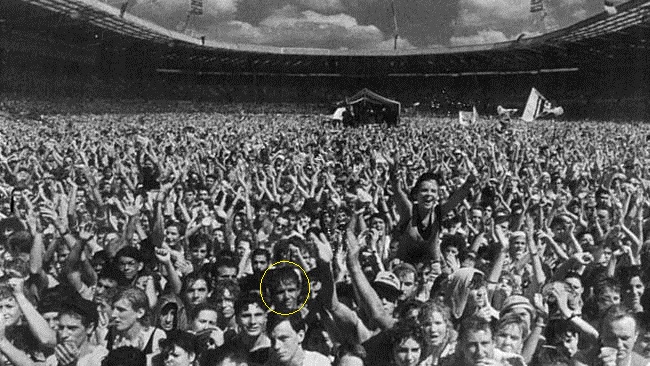 For the next 11 hours I would witness one of the biggest famine relief efforts to ever go down in history. The Live Aid show raised more than 125 million US dollars towards the battle against hunger. From the very beginning sets of acts like Status Quo, Adam Ant, Boomtown Rats and Elvis Costello to the magical grand finale of everyone involved performing "Feed the World " It turned out to be a brief moment of excellence in ones life's span. By 3pm the show was well on its way. The weather in London was hot and the mood was electrifying. The next act on the line up promoting her first album "Diamond Life "was the up and coming singer Sade. I only knew her hit single "Smooth Operator" but that did not matter. Her gentle and peaceful sound along with her beauty and elegance provided everyone with soothing vocals to recharge one's batteries and prepare for the next 7 hours still ahead of us.
Sting joined us next doing a few "Police" songs with fellow friend Phil Collins on the piano. It was sort of an acoustic set but never the less had the whole stadium singing along to their tunes. The next 2 hours were filled by British acts like Howard Jones, Bryan Ferry and Paul Young leading up to the moment everyone was excitedly waiting for. Jack Nicholson had the privilege to introduce the next band. "Direct from London, a group whose heart is in Dublin Ireland, whose spirit is with the world, a group that has never had any problems saying how they feel U2" At that point the crowd went ballistic.
As U2 walked on to the stage I knew right then and there I had accomplished what I had set out to do. I was in the very first row center of a massive concert being watched by an estimated 1.5 billion viewers in over 100 different countries worldwide. Watching Bono as he walked up to the microphone and yell "Sunday Bloody Sunday" followed by the classic drum beat of Larry Mullen Jr. and the distinctive notes of the Edge prepared me for what I was about to witness. Upon finishing their first song Bono grabbed the microphone and introduced himself to the world with the best possible line of introduction describing who they were and bringing to the surface possibly their best song ever written. "We are an Irish band we come from Dublin City Ireland. Like all cities it has its good and it has its bad. This is a song called Bad. The rest was history in the making. Little by little the song gathered momentum and hypnotized the 100,000 present watching as Bono, in a moment of daze and compulsion, jumps down from the stage to the crowd beneath only to secure in his arms and dance with a 15 year old girl he had pulled out from the crowd. Rolling Stone magazine later called this performance "U2's 'Bad' Break: 12 minutes at Live Aid That Made the Band's Career".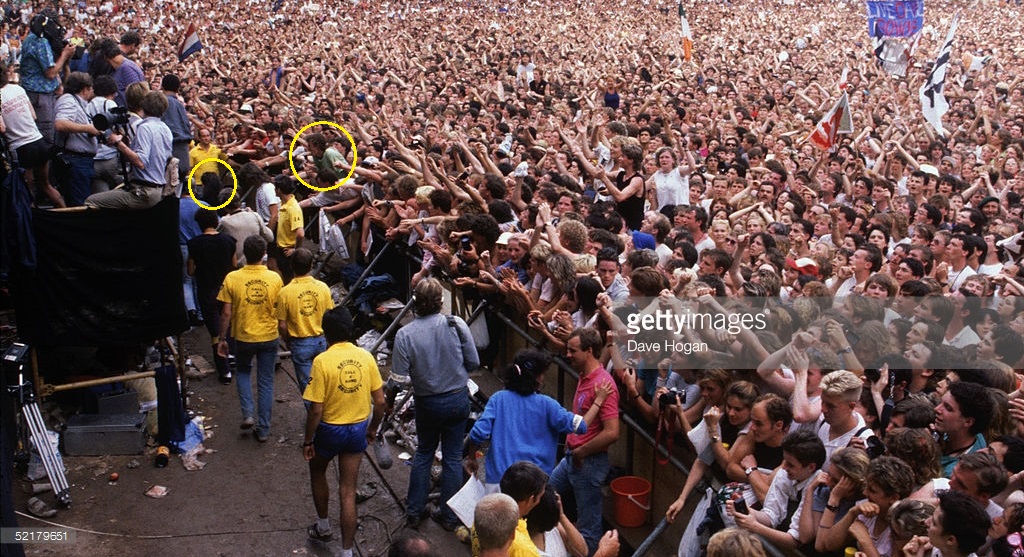 I will never forget the thought that was running through my head as I watched Bono, just a few feet away from where I was standing, dancing with that lucky girl. I asked myself if I should jump the barrier and go say hello and shake his hand. I was certain I would be able to get away with it but at the same time I knew I would never get my place back in the first row. The clock on the left side of the stage, which I could see perfectly from my spot, said it was 5:45. That meant that there was still another 5 hours of music of some amazing bands still waiting to perform. Bands like the Who and Queen just to name a few. My decision was made. I would stay put and keep enjoying this once in a life time opportunity to see bands I had grown up dreaming of seeing them live one day. My day was now and I couldn't have asked for a better seat.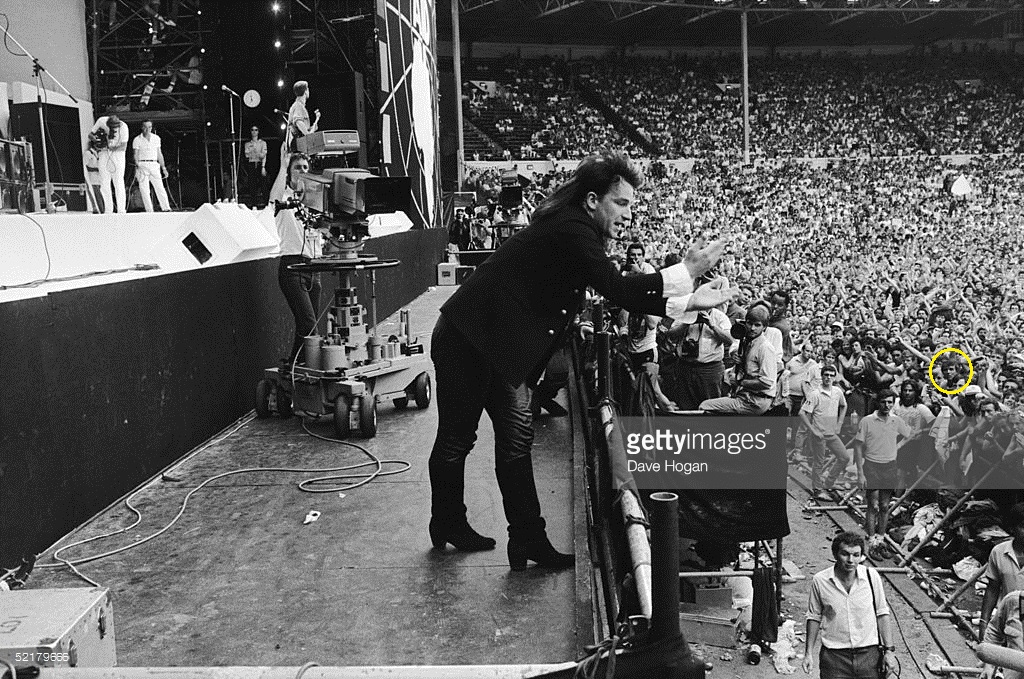 The next act to come on stage was Dire Straits. I remember as Mark Knopler called out a special guest, Sting, to join them on stage. Right then everyone knew the song was going to be "Money for nothing" with Sting singing his distinctive line "I want my MTV" The song was followed by an extended version of their mega hit "Sultans of Swing" Mark Knoplers amazing guitar solos on that song had the crowd cheering for more. By this time the sun was beginning to set. It was 6:30 and I could not help but notice as the stage crew was getting the stage ready for the next band and they were hauling in a huge white grand piano. Although I was exhausted I immediately felt a new jolt of energy run through my whole body. At that moment I'd forgotten I was tired, hungry, and thirsty. It was time for Queen. The next 30 minutes, which were moments of euphoria, was simply phenomenal. It's no wonder why they call Queen the best live rock n roll show ever. Needless to say days after the concert it was announced that Queen stole the Live Aid show. Their front man, Freddie Mercury, was no doubt an amazing showman with one of the best voices rock n roll has ever known. I was fortunate to experience live one of his last great performances before he would die of pneumonia brought on by AIDS in 1991.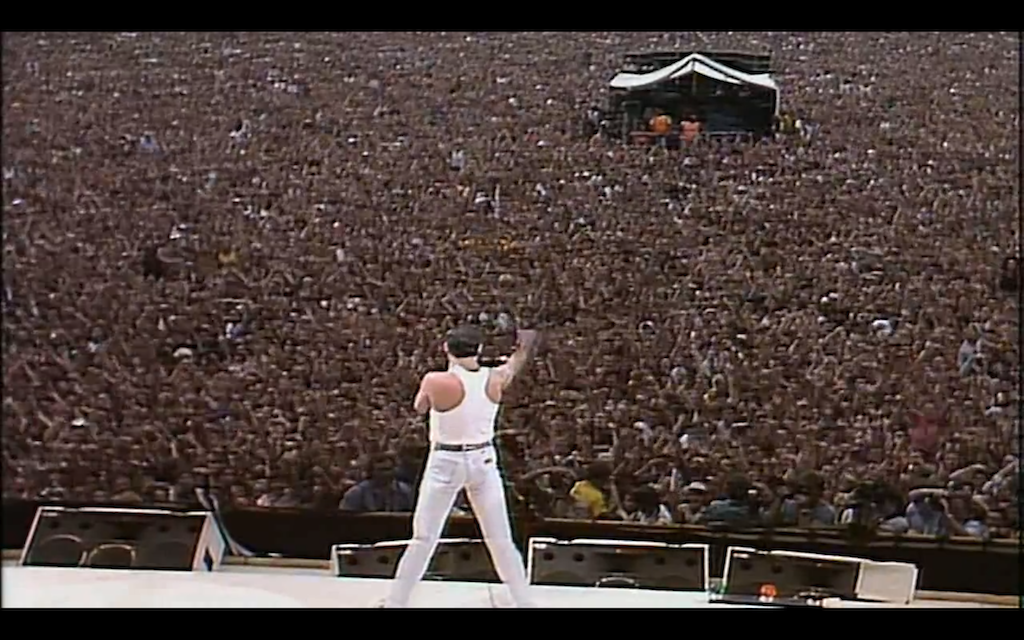 Following Queen's set the show continued with another British legend David Bowie. Although I enjoyed his songs I could not help thinking throughout his set about the long awaited rock n roll reunion that was still to come. One of my favorite all time bands was getting together just for this one live aid concert. The Who, one of the most influential rock bands of the 20th century, was getting ready to come up on stage. They truly rocked the house. Their set was made up of 4 rock anthems finishing up with "Won't get fooled again" By the time the "Who" got off the stage the time was almost 9pm. I really wanted to go home and put my head down. I could not think of another single song I wanted to hear. Thank goodness for the front row barrier that held me up most of the concert. After so many hours the faces around me seemed so familiar we were almost like family. Before I knew it the next act was on and it happened to be Elton John playing a rocking version of "I'm still standing" I thought the song selection was well called for and it brought out some energy in me I did not think I had left.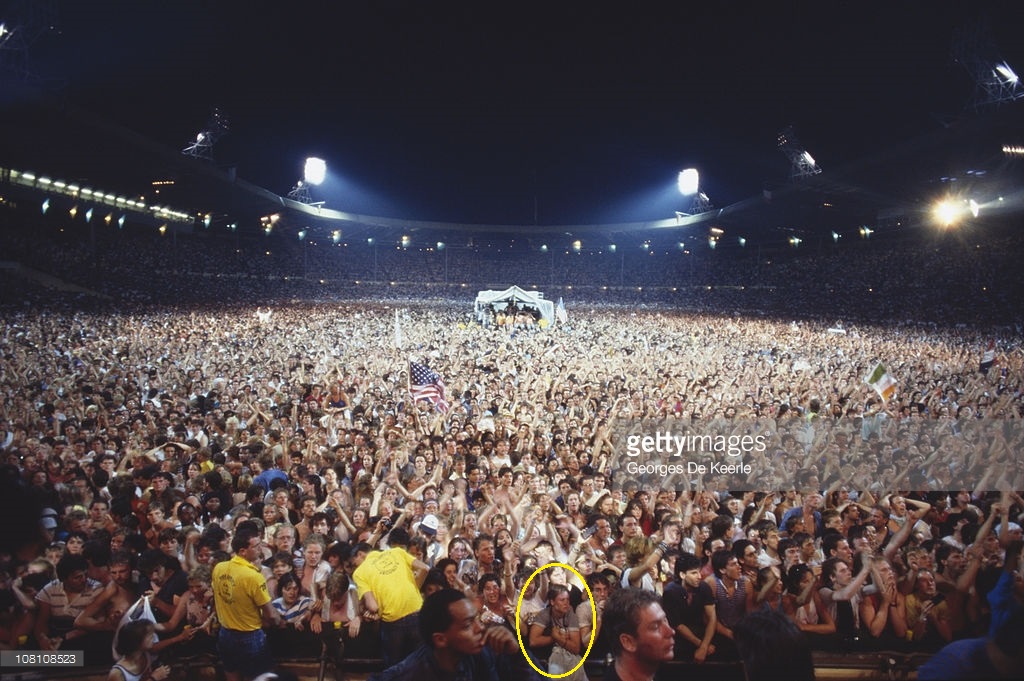 Elton John played five of his most popular songs. Daniel and Don't let the sun go down on me where probably the best. When Elton John finished his set Mr. Bob Geldof, which was later knighted by the Queen of England Elizabeth II for all his fund raising work, introduced the last act. His longtime friend, Mr. Paul McCartney, had agreed to sing "Let it Be " I will always remember the amazing feeling of singing along with over 100,000 people the beautiful melody of one of the best songs ever written by the Beatles with McCartney playing the piano. As the crowds singing of "Let it Be" was slowly fading away you could see the stage filling up with all sorts of artists. Everyone we had seen throughout the long day was getting themselves to the stage. There must have been at least 100 artists partaking in this grand finale of a song "Feed the World" As the band started playing Bob Geldof took the microphone and asked everyone to join in and said "If you're going to cock it up, you might as well do it in front of billions of people" Feed the world must have gone on for at least 5 minutes. Nobody wanted this very special day to end.
I finally made it back to my sister's apartment in London at around 2am. I had gone for 22 hours with barely anything to eat and no rest whatsoever but one thing was for certain, I had accomplished every little bit of my dream and more.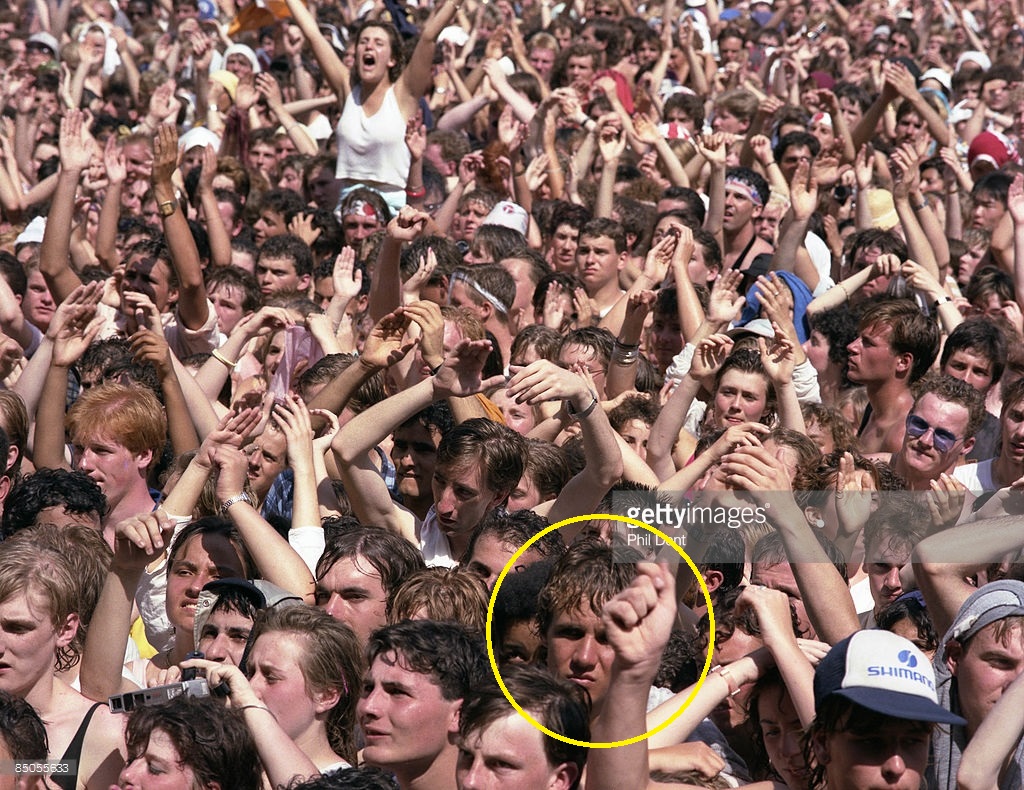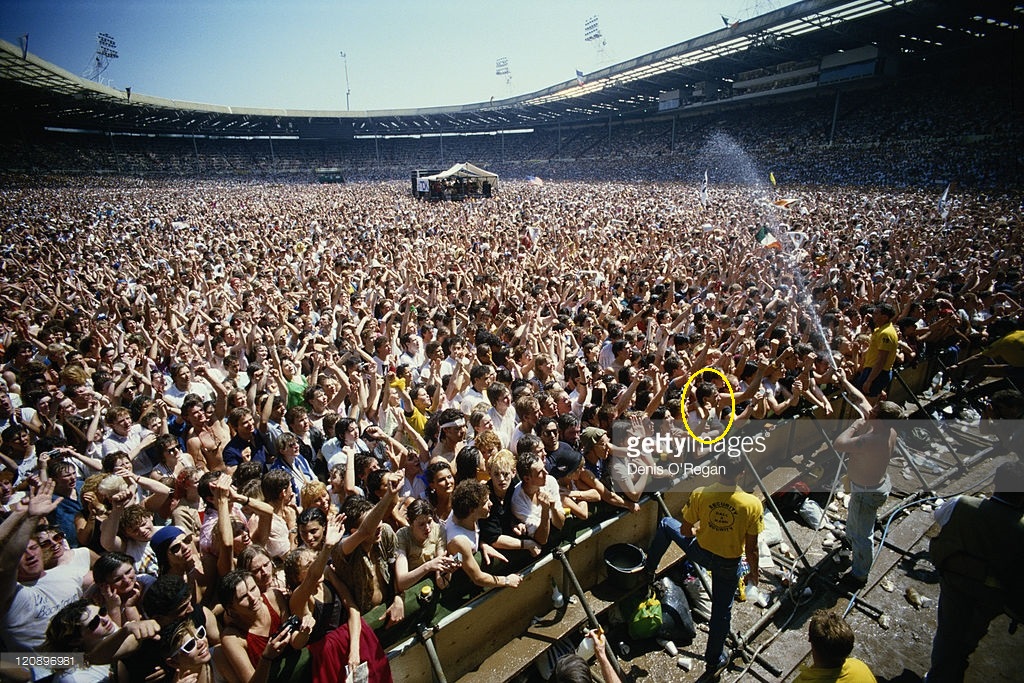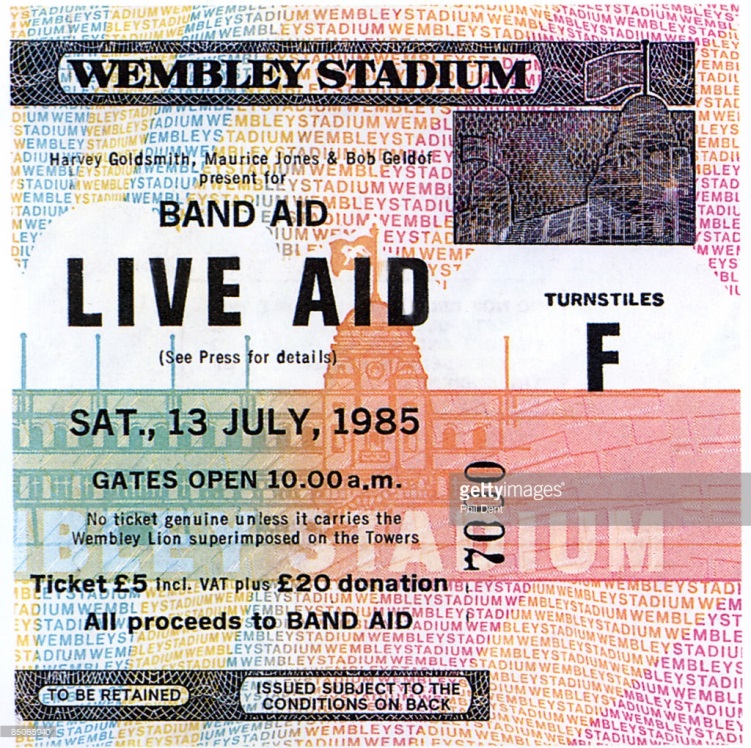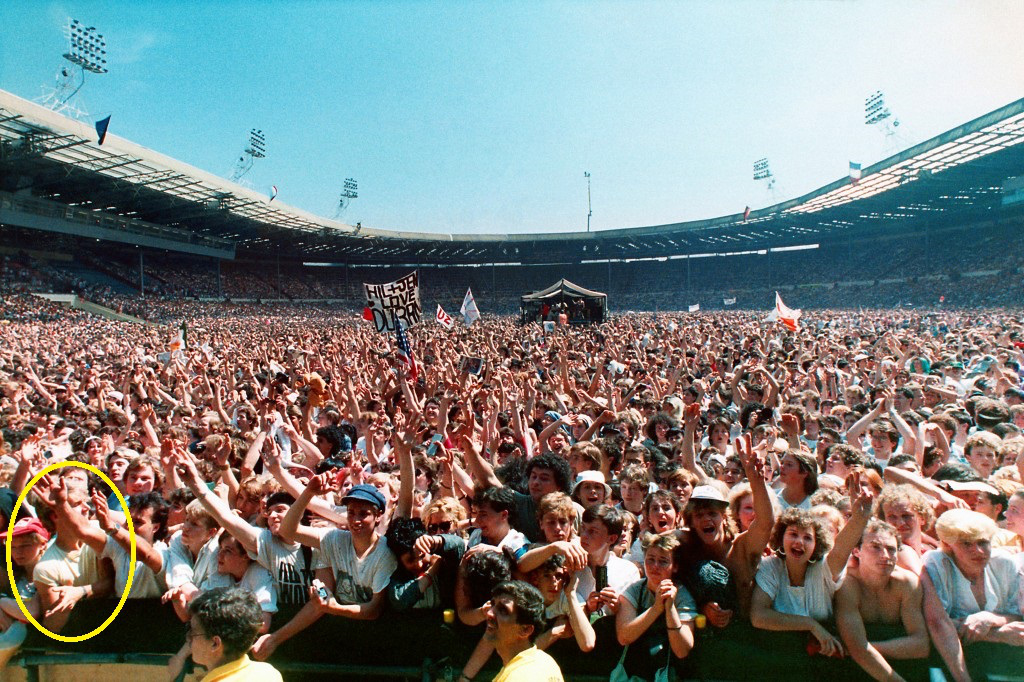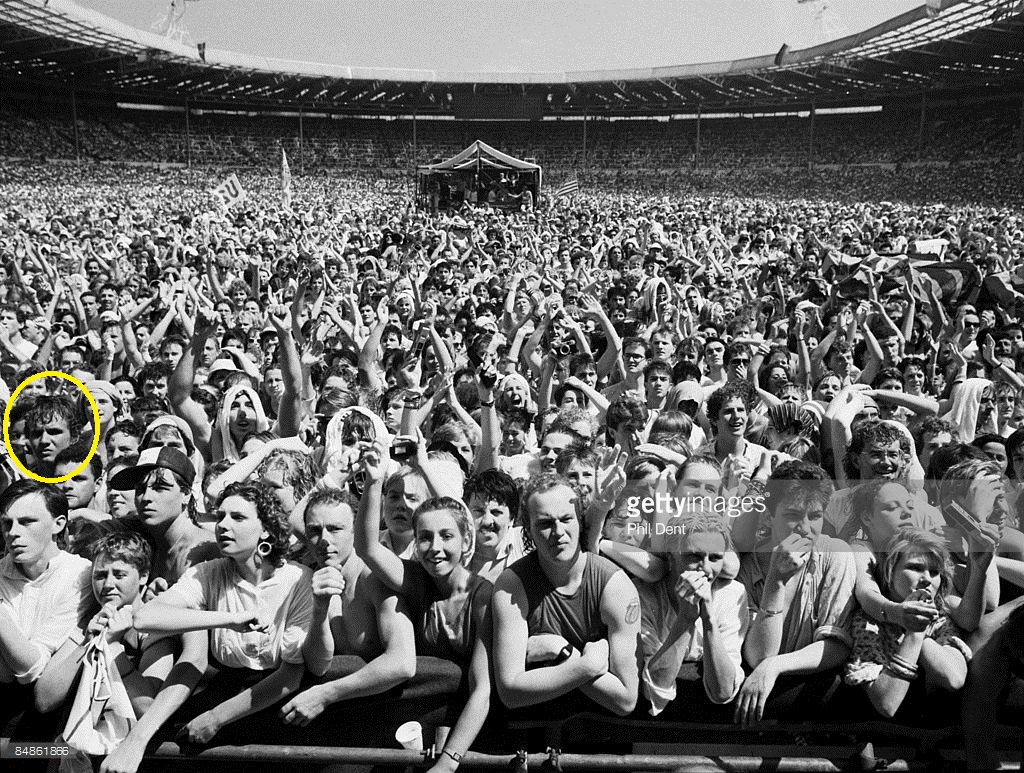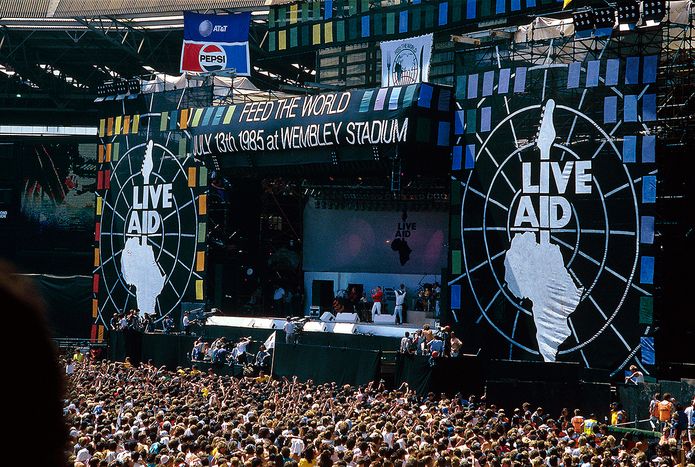 The End
15 years later I had the opportunity to meet the singer of U2, Bono, during a rehearsal in Miami, Florida. At the time I had a magazine with me that featured an article on U2 and it spoke about their Live Aid performance. A picture of the event showed U2 performing and showed me in the background. When I showed it to Bono a flashback occurred that caused a big smile on his face. He went on to circle my image and wrote "save this space" and sign his autograph. This event for me was closure to that thought I had experienced back in July 13, 1985 and chose not to follow thru. My story had now come full circle.
-- Bernardo Junco
---